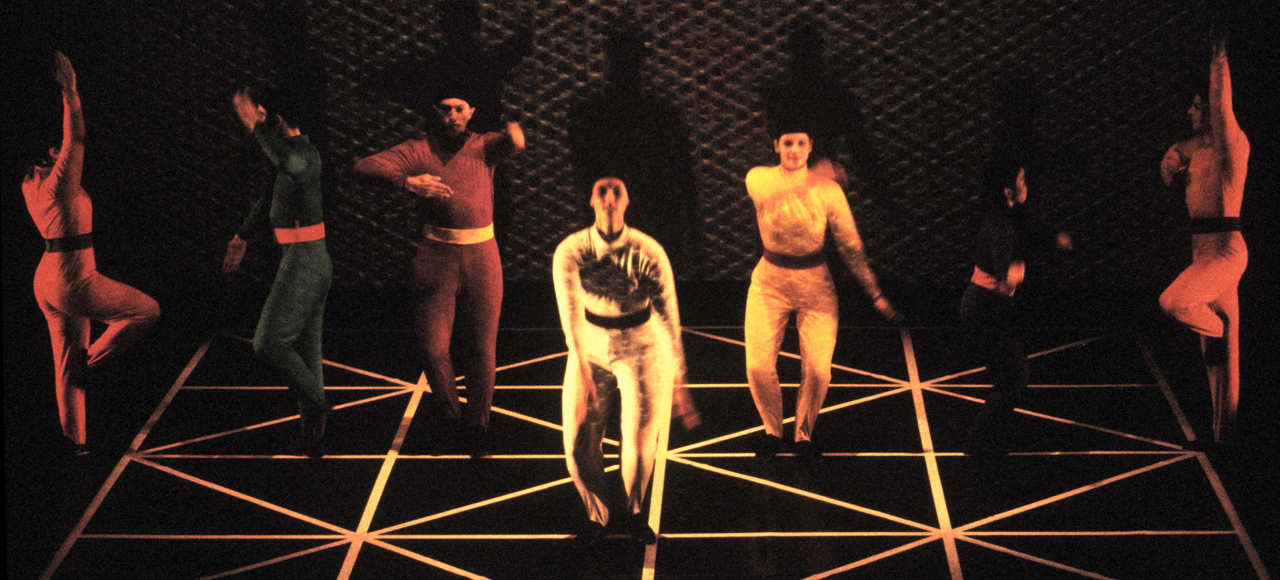 Figure and Sound in Space
A polyphonic scenic stage composition
One should be as unbiased as possible; one should approach things from the standpoint that the world has just been created; one should not pursue a subject to death, but should allow it cautiously, but freely, to develop itself. One should be simple, but not needy ("Simplicity is a word laden with meaning"); one should prefer to be primitive rather than ornate or pompous; one should not be sentimental but should allow space for the spirit. And with that everything and nothing has been said.
Oskar Schlemmer
Das Ensemble
A co-production of the Theater der Klaenge with the Bauhaus Dessau.
Cast of the premiere on 25 March 1993 at the Bauhaus Dessau.
Actors: Clemente Fernandez, Jacqueline Fischer, Jean-Jacques Haari, Kerstin Hörner,
Maria-Jesus Lorrio, Heiko Seidel, Ismini Sofou
Playwright: Jörg U. Lensing
Co-Author Music: Thomas Neuhaus
Co-Author lighting design: Jürgen Steger
Dramaturgy: Dr. Andreas Bossmann
Staging: Jörg U. Lensing
Assistant director: Monic Wollschläger
Music + sound engineering: Thomas Neuhaus
Software:
Real-time control system: Thomas Neuhaus, AUDIAC software: Markus Lepper
GAMS software: Will Bauer, lighting and projection design: Thomas Neuhaus
Slide projection design: Jürgen Steger
Light design: Jürgen Steger, Jörg U. Lensing
Light technology: Kai Mönnich, Sascha Hardt
Costumes: Kerstin Uebachs, Catherina di Fiore
Stage design: Jürgen Steger
Administration: Sabine Lückmann
Public Relations: Ernst Merheim
Photos: Sascha Hardt
Training management
Voice: Clemente Fernandez
Dance + Biomechanics: Jacqueline Fischer, Kerstin Horns
Acrobatics: Jean-Jacques Haari
Music: Jörg U. Lensing
Rhythm: Maria-Jesus Lorrio
Strength Training: Ismini Sofou
The scenic material for the piece "Figur und Klang im Raum" was developed as a collective and indispensable collaboration of the ensemble members of the Theater der Klaenge – Clemente Fernandez, Jacqueline Fischer, Kerstin Hörner, Jörg Lensing, Maria-Jesus Lorrio, Thomas Neuhaus, Heiko Seidel, Ismini Sofou and Jürgen Steger, as well as Jean-Jacques Haari as a guest.
We would like to thank Michael Popp and Petra Speh for their practical contributions.
Based on Oskar Schlemmer's "systematic stage essays" from the 1920's, the Theater der Klaenge set itself to work on "Figure and Sound in Space", a theatrical research project which concerns itself with the "laws of the stage": Representation, Space and Sound.
Oskar Schlemmer had engaged himself, particularly in the years from 1925 to 1928 at the Dessau Bauhaus, in a systematic "grammar of formal stage elements", which led to several "small dances". Despite the fact that most of Schlemmer's pieces were written to music, a systematic exploration of the element of Sound in (the theater) space had been forgone, since no composer was found to collaborate with, and Schlemmer was himself neither a composer, nor a director specialized in speech.
The Theater der Klaenge concerned itself 1992/1993 at first with Oskar Schlemmer's theory of "people and figures in space", and partially adopted for itself the results of this theatrical research. Parallel to that was integrated a pre-drafted electronic installation of microphones, light barriers and ultra-sound sensors, which the composer Thomas Neuhaus had designed for Theater der Klaenge during the rehearsal process. This installation allowed direct control of electronic music and light through sound and movement occurrences on stage, therefore through the actors themselves.
By "Polyphonic scenic composition for the stage", is meant the arrangement in time of multilayer happenings in the theater space. The most different theatrical elements such as light, sound, movement, color, gesture and mime are first understood as individual parameters, then so related to eachother in the composition, that the sum of the parameters creates the theatrical event in time. In this context, Joerg Lensing and Thomas Neuhaus have also defined the notion of an "integrative theater".
The piece came into creation also as a collaboration with the Dessau Bauhaus. It proved itself to be so cumbersome in the rehearsal process, particularly because of the immense technical layout, that the Theater der Klaenge chosed not to continue on the same path after 1993, but to turn itself instead to more "traditional" theater mediums. Nevertheless, "Figur und Klang im Raum" lived to see 32 performances to date in 8 cities, both home and abroad, and was from 1994 to 1998, combined in a reworked version with the "mechanischen Ballett" (the "Mechanical Ballet"), an integral part of the double program "Tanz am Bauhaus" ("Dance at the Bauhaus"), which also toured in Belgium, France and Israel.
In 2000, considerations on the resumption of "figure and sound in space" led to a 3-person play called "Manifesto", which, over 5 years of development, led to the interactive, intermedia research project "PCI – HOEReographien" in 2005 via the productions "Megalopolis" and "Modul|a|t|o|r". The developed approach was further developed via the "HOEReographien SUITE" (2009) to the "SUITE intermediale" (2010) and was most recently a partial component of scenic interaction in the productions "VANITAS" (2012), "CODA" (2014) and "Das Lackballett" (2019).
Figure and Sound in Space: Press
No fear! The event is in no way as dry as its title suggests. The eighty minute performance gives full voice to its ingenious father Oskar Schlemmer immediately from the start . He is quoted by a young man in white shirt and black bow-tie, who poses as the Conferencier of an accident prone evening, repositioning himself in the ever disappearing spot light, angry with the ill functioning micro, but who has finally, however quite comfortably, directed a few Schlemmer sentences at the public (" One should be as impartial as possible!"). Hardly is he away, that six shapes in broad-shouldered padded leotards take his place . On a screen, over the figures, words and geometrical figures wander in short, calculated paths, over a pattern of white squares and diagonals painted on the stage. Their angular movements are accompanied by a noise and sound collage, which comes through several loudspeakers posted in front and behind the spectators. At intervals, one hisses sentence-scraps at each other, as if helpless and help-seeking. Then again two gabble in a completely incomprehensible fantasy-language or seem to elicit the strangest sounds from the ground through stamping . In the end all seven performers whirl through a round dance of briefly indicated roll-games, ranging from the shy flirt to vehement competition, from the clumsy put on to the snotty turn down. Particularly in such moments, the new production proves itself not only as original and ambitious but as unquestionably brilliant. The multinational ensemble convinces through precision in dance; the high technical level of the light – and sound mixing invite no less respect.
Rheinische Post
The Theater der Klaenge have named "Figur und Klang im Raum" their perfectly high tech production, with which they transported the premiere spectators into a vibrating sound-intoxication. The invisible electronic control system extends the natural volume of the human voice, and promotes a light – and sound show not to be outdone at technical perfection. Despite technology, the stunned human being asserts itself, discovered, just like a marionette which is awakened gradually to life. The seven protagonists are convincing particularly through their exquisite gestures and facial expressions.
Neue Rhein Zeitung
The technical so perfectly works and stands out again and again in its best moments, since the spectator may not believe in a continuous control through the actors themselves. But nevertheless the stage event captivates alone (…) and hope remains that someday the technical of a seemingly perfect city-theater production would take over and turn the evening into a real experience. Just like the witty, lively and self teasing eighty " Figur und Klang im Raum " minutes.
Hannoversche Allgemeine Zeitung
An engaged and happy to experiment ensemble was dutifully at work. TheTheater der Klaenge started off with its respect inspiring project exactly where Schlemmer left off with his attempts to create effects of sounds and noise, graphical symbols, language and music, due to his 1928 departure from the Bauhaus. That was no ready piece, rather a development process of a multimedia composition, that led with each performance to new artistic discoveries. Fascinating the contrapuntal interplay of light, music and scenes, in which each element acted autonomously and was still however part of the total in its aesthetic effect and relationship in space. It is worthwhile to further work on this admirable production, with its reprocessing and rediscovery of buried approaches.
ZeitPunkt