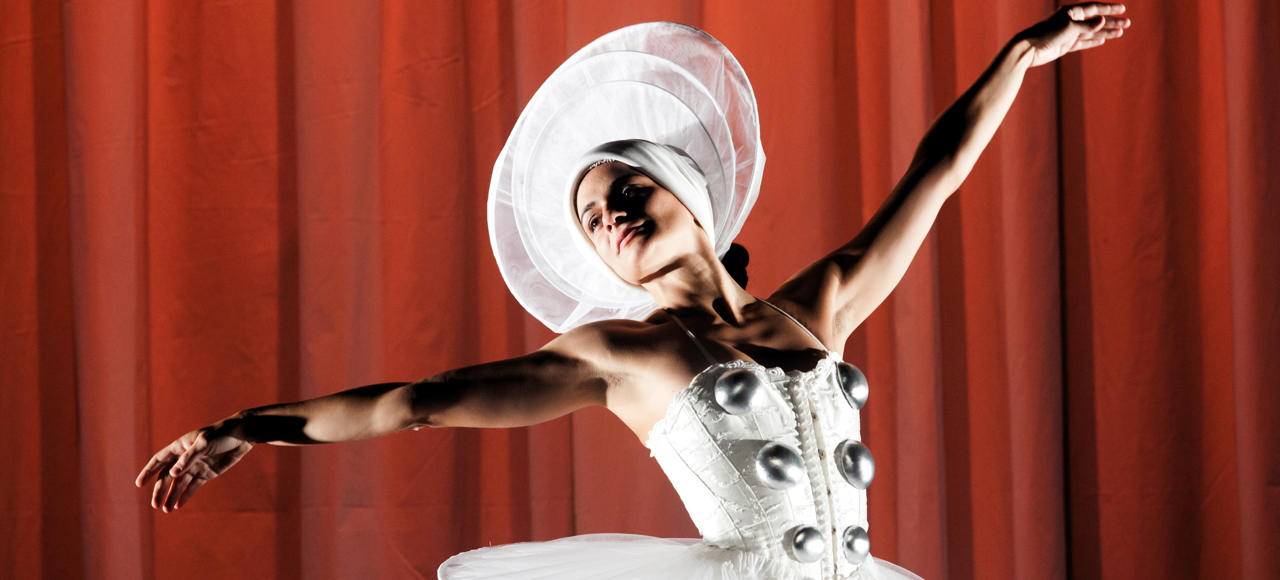 Bauhaus Ballets
The Mechanical Ballet & TRIAS – The Triadic Ballet
Already in the very first stage production, in 1987, Düsseldorf´s THEATER DER KLÄNGE, the THEATRE OF SOUNDS, established their profound know-how on Bauhaus. In 2015 with their creation "TRIAS" they were following up on that: Their remake of the "Triadic Ballet" was highly praised by the critics, called "a splendid adaptation", "a contemporarily reflected meta-Schlemmer" and "a loving hommage" to the Bauhaus artist Oskar Schlemmer.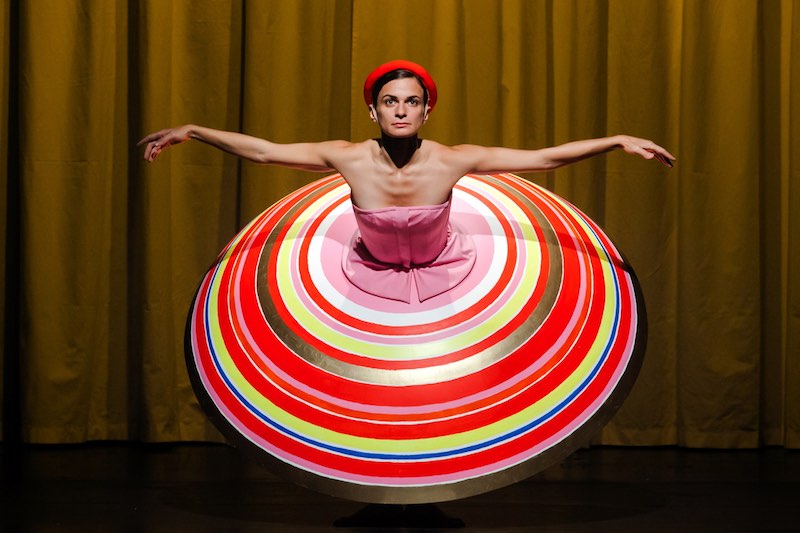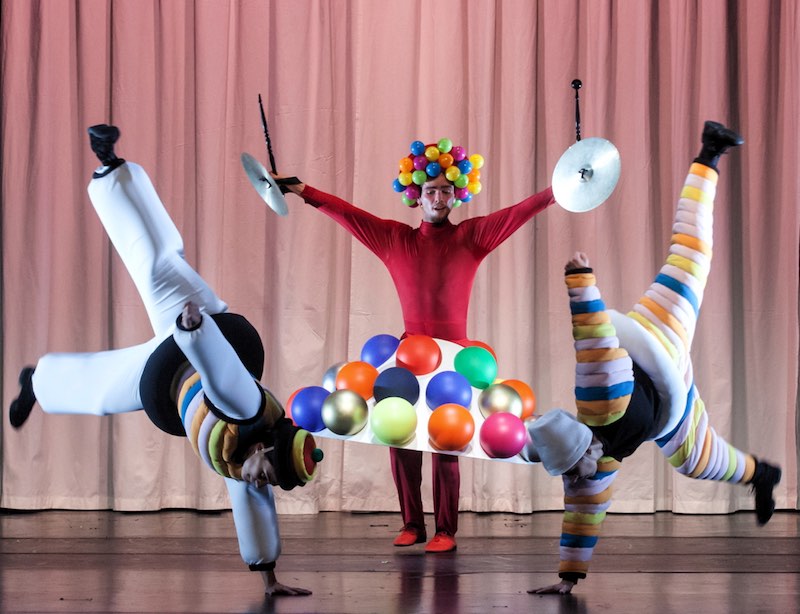 Cast
The mechanical ballet
based on figurine designs by Kurt Schmidt and Georg Teltscher from 1923 at the Weimar Bauhaus
Production/choreography: J.U.Lensing
Music composition: Hanno Spelsberg
Figurine reconstruction: Ernst Merheim
Figure making: Udo Lensing
Lighting design: J.U.Lensing
Lighting equipment: Markus Schramma
Conferencier: J.U.Lensing
Windmill: Jacqueline Fischer
Machine presence: Laura Wissing
Locomotive: Kai Bettermann
Dancer: Phaedra Pisimisi
Little one: Fatima Gomes
Musician for "The Mechanical Ballet"
Piano: Thomas Wansing
Trombone: Matthias Müller
Drums: Dieter Stamer
TRIAS – The Triadic Ballet
New interpretation (2015) of the "triadic ballet" by Oskar Schlemmer (1922)
Production/direction: J.U.Lensing
Choreography: Jacqueline Fischer
Music composition: Thomas Wansing
Figurine production: Caterina Di Fiore, Udo Lensing, Christian Forsen, Katja Schümann-Forsen, Sylvia Straub
Silver Masks: Adriana Kocijan
Mask Taucher: students of the FH- Dortmund/FB-Design
Lighting design: Denny Klein
Lighting equipment: Markus Schramma
Performers:
– Kai Bettermann: Conferencier, diver, ball hands, clowneries
– Danilo Cardoso: top hat man, harlequin, white dancer, ball skirt, disc, gold ball, blue
– Fatima Gomes: bell doll, rod turret, spiral 1, disc, golden ball, yellow
– Phaedra Pisimisi: round skirt, white dancer, pelvis turquoise, spiral 2, luminous figure, red
Musician for "TRIAS – The Triadic Ballet"
Piano: Thomas Wansing
Cello: Beate Wolff
Drums: Oliver Eltinger
THEATER DER KLÄNGE started in 1987 very consciously referring aesthetically back to the Bauhaus stage works of the 1920ies.
"The Mechanical Ballet" goes back to two photographs and to descriptions of the former Bauhaus student Kurt Schmidt, handed down to us by the book "The Stage At The Bauhaus" from 1923. In 1987 we dared coming up with a reconstruction of the figurines showed on these photographs. Dealing with these figurines led us to the creation of a new choreography as well as a new composition of the stage music for piano, trombone and percussion. The result in 1987/88 was a great success with the public and has by now seen almost 200 performances, not only in many German theaters but also abroad: in France, the Czech Republic, the Netherlands, Greece, Russia, Israel and India. "The Mechanical Ballet" has been a permanent part of our repertoire ever since and we are at present the only ensemble, that reenacted this ballet – originally created for the Bauhaus exhibition in Weimar in 1923 – and who is able to present it in a life performance.
In 2015, calling it "TRIAS", we reinterpreted "The Triadic Ballet", following a project plan by Oskar Schlemmer from 1922. The formal structure of first 11 scenes as well as the recreation of the figurines are almost identical with the way Schlemmer himself designed them for their first release in Stuttgart and Weimar in 1922/23.
Differing from other reconstructions of the 1960ies and 70ies our approach of newly interpreting this stage work was to focus on the humorous, ludicrous, and even carnivalesque elements within this figurine ballet. All of the choreographies, the music and the final 12th scene are new creations made by THEATER DER KLÄNGE.
"bauhaus ballets", our new evening-filling program, brought in 2017 both of our Bauhaus productions together: "The Mechanical Ballet" and "TRIAS".
"bauhaus ballets" was first performed in 2017 in Düsseldorf´s Capitol Theatre – celebrating the 30th anniversary of the foundation of THEATER DER KLÄNGE, the THEATRE OF SOUNDS.