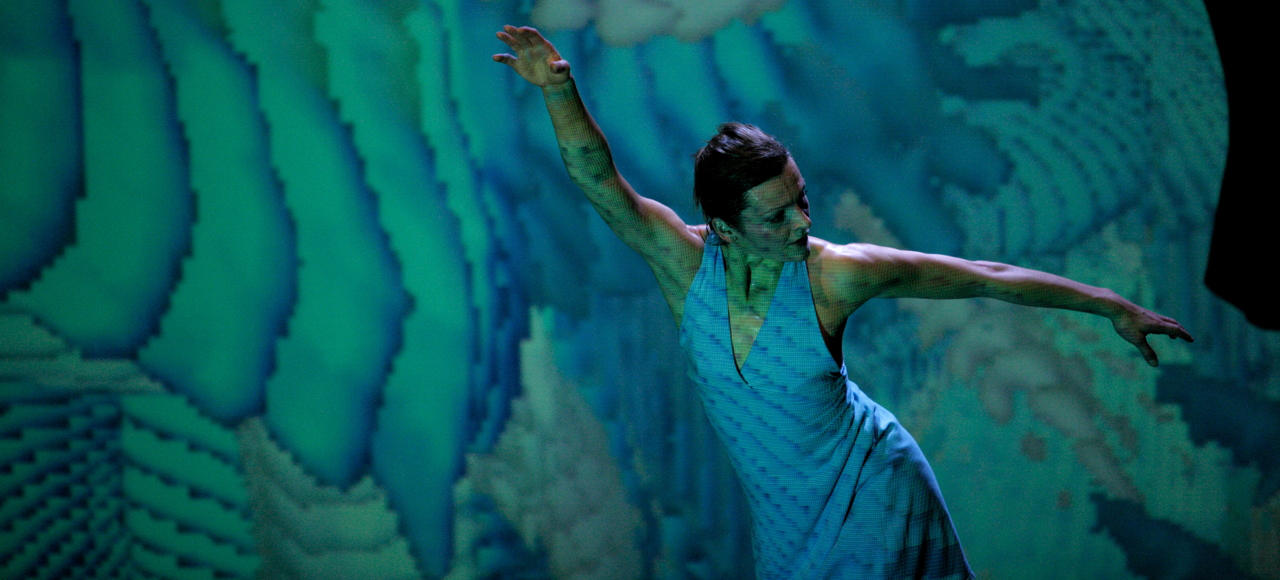 One starts from a corporal situation, from being, from standing, from walking and, finally, from jumping and dancing. Then, a single step forward is a tremendous event; raising a hand, moving a finger is not less significant. One is as shy as respectful towards every corporal action, particularly on the stage, this so special living world that appears as a second reality where everything is surrounded by the shine of magic.
Oskar Schlemmer
Cast
Project Management: J.U.Lensing
Choreographic work: Jacqueline Fischer
Music / Sound: Thomas Neuhaus
Video consulting: Christian Ziegler
Video: Thomas Neuhaus, J.U.Lensing, Lucy Lungley
Dance: Jenny Corner, Jelena Ivanovic, Caitlin Smith, Hana Zanin
Lighting design: Christian Schroeder
Sound and video technology: Thomas Neuhaus, J.U.Lensing
Costumes: Caterina Di Fiore
Stage design: J.U.Lensing, Christian Schroeder
Artistic company office: Petra Weiß, Andreas Martin, Jenny Eickhoff
Photos: Oliver Eltinger
Print design: Ernst Merheim
Questioning the classical dance dependence on music is the starting point of the "Heareography" project.
To what extent can movements and movement lines become audible in space? What will it happen when music arises from movement and, furthermore, if, within such context, musicians and dancers interact?
Beyond, what if the dancer's body is filmed on the stage and, in real time, is turned into a video sculpture that, in turn, with the human bodies on the stage result in a conglomerate that moves in real time producing material and virtual dance?
If music results from the movement of dance and, therefore, the structure of the composition is not going to be developed, adapted and interpreted anymore through music composition, what is the role of the dancer? How will this affect dance?
How do musical variations and development forms appear visually, in order to provide us with a movement, resulting in a sound that is, at first, amorphous but later adopts an understandable form and structure? Which form of contemporary light and video art results from this interactive action?
And, how can this "new" process be made understandable for a live public?
In the sensored, interactive stage of "Heareography" there are no movements that do not bring along sounds and images, so that any action by an actor on the stage must inevitably lead to music and video scenery.
A cycle of single pieces (Soli, Pas de Deux, Trios, Quartet) in the form of dance through which electronic music is produced, dance that develops video sculptures and dance from live-music structured improvisations, a constellation that, with mixed shapes, results in an overall visual composition in the form of "autonomous" dramatic art that supports the concept of "autonomous music".
HEAReographics: Press
"In this fascinating production, the four female dancers combine strength, grace and intense concentration. Their movements produce a synthesis of sounds that are also projected in a slightly delayed sequence of visual images as they create new Sound-Figures. This mixture of dance, acoustics and sculpture blends movement, light, colour, sound and form through a series of feedback loops into a uniquely holistic work of art (…) extending the limits of modern dance theatre. The performance ended with loud and well-deserved applause for the designer and, especially, for the dancers.
Westfälischer Anzeiger
"The Düsseldorf Theater der Klänge has just staged the premiere of its latest production at the Forum Freies Theater in Juta. The performance, which has no speaking parts and lasts just 70 minutes, treats the audience to an unusual lesson in "HEAReographics", (…) in the aesthetically puritan style of the Bauhaus with its preference for cubic forms and primary colours: red, blue and green. Under the direction of Jörg Udo Lensings, Jacqueline Fischer (choreography), Thomas Neuhaus (music/sound/video), Christian Schroeder (lighting) and Caterina di Fiore (costumes) have created a synthesis of the arts in an interactive stage environment that makes the four dancers both the initiators and controllers of the entire audiovisual happening. This harks back to another central aspect of Bauhaus theatre: the relationship between art and technology (…) Dance, with its dynamics and intensity, thus produces tension both within the acoustic and visual spheres and between them. Fourteen very different scenes, each more densely layered than the previous one, show off the creative potential of worlds made out of dance, sound and images."
Rheinische Post
"The musical themes (Thomas Neuhaus) are produced beforehand, but it is the four dancers who control the quality and intensity of the sound. Their movements and the dynamics of the music are fused together both visually and acoustically. Tempo and volume are directly linked, for instance, to the speed or forcefulness of an arm movement. The video picture thus produced is split into an infinite number of frames or reflected horizontally and vertically, and additional effects are achieved through colours and structures that create a sensation of distance. For anyone interested in the integration of live stage events and video, "HEAReographics" offers an abundant range of possibilities. Its treatment of fundamental stage elements in the Bauhaus tradition is formally rich…"
Westdeutsche Zeitung
You can hear it with your eyes: 60 minutes of tangible concentration; 60 minutes of spellbound silence among the audience. And once the "HEAReographics" premiere is over, your senses have undergone another remarkable change: not only can you hear with your eyes, but you can see with your ears.
(…) Cleverly, the first piece, "canon scherzo affetuoso", begins in an almost conventional manner. The dancers are ladies dressed in the typical black tails worn by orchestral musicians and each of them can be clearly identified with the sound of a string instrument. Put in these simple terms, the creator's seemingly complicated idea is easy to grasp. Step by step the ensemble draws the spectators into the idea behind the piece. Gradually, they pile on more effects, although they are always ready to take a step backwards at any moment (…) At first, only black-and-white shadow plays are seen on the screen in the background; but these mutate, as the dance movements change, into kaleidoscopic patterns and video sculptures. The music becomes noticeably more fragmented, more electronic.
NRZ